ONLINE JOURNAL These journal entries track our progress as we undertake our adventure of restoring this very old home. The main reason for keeping this journal on the web is that we have found that there are very few resources (books or websites) that follow all of the trials and tribulations of restoring an old home...from start to finish.
---
February 9, 2002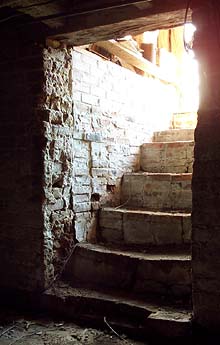 Spent time in the cellar today taking measurements and making plans for some structural work down there this spring. I need to replace a ten foot section of sill that spans the cellar entrance and beyond. Water has leaked around the doghouse entrance to the cellar for years causing the sill to rot and sag. I will be taking this doghouse down and replacing it with trapdoors.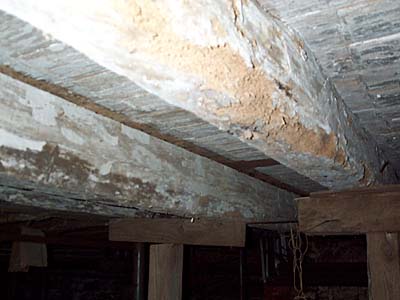 While the sill is out I will also be able to replace this rotten floor joist (on the left in the photo above) that is beyond hope. There is so much insect damage in this joist that I feel sure I could tear it out with my bare hands. It has dropped a full inch from the floor boards above and can be easily wiggled around. The joist on the right is pretty typical of the condition of most of the other joists...spotty old insect damage, but a solid core.

Gay and I have decided to take down these giant "bushes" that are eating the screened porch. Not sure what they are...either a yew or a hemlock. We like the way that they hide the porch and provide privacy, but this close to the house they are causing problems and preventing the sun from ever hitting the front of the house. -- BIll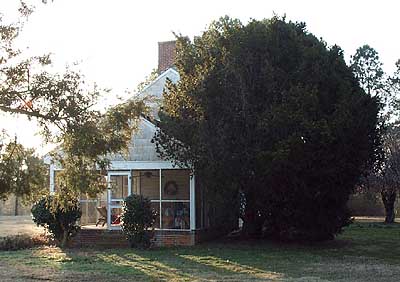 ---
February 23, 2002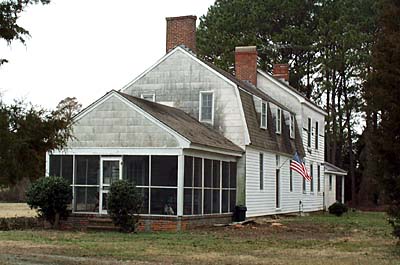 What a difference! The encrouching trees are gone and the front of the house has a whole new look. Without these trees, in the photo below you can see where the smokehouse and windmill are located in relation to the house. -- Bill