---
When you see this symbol, click to read related discussion in the Forum.
---
It's pretty impressive when a company from 3 states away shows up within 4 minutes of when they say they will. (Wish I could say the same for some of the local contractors.)

Sure enough, at 10:04 this morning two trucks from Bucks County Soapstone arrived after their 6-hour trip. They didn't waste any time getting to work.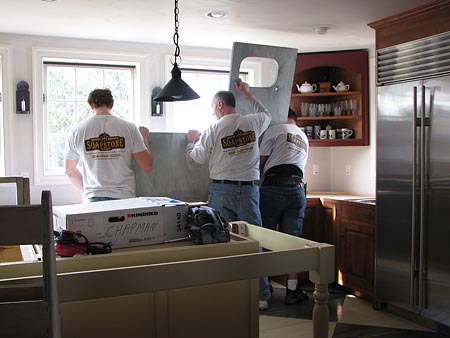 The soapstone is really beautiful, even before it's oiled.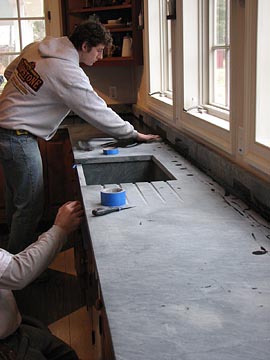 And after it's oiled, it's a deep black with some nice green and white veining.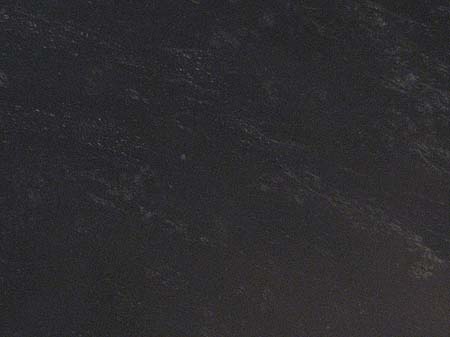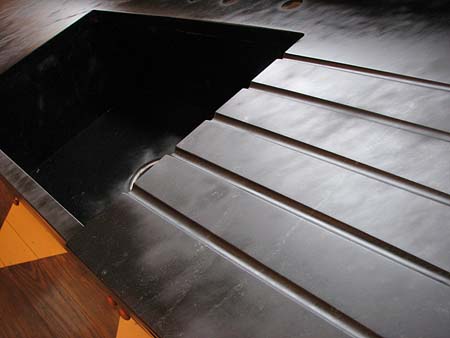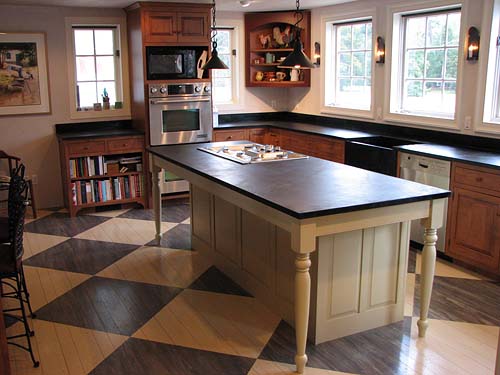 By 3:30 they were done. We're thrilled with the way it looks!


Now we can install the gas cooktop and downdraft and get the sinks up and running. For the first time in two years we'll actually have a sink in the kitchen! Such luxury! -- Bill

---
Yesterday the gas cooktop and retractable downdraft were installed. Five guys descended on the house to do the installation, run the vent piping, install the tank, run the gas line, etc. Two noisy hours later it was all done.

Now if we can just get the electrician to come install the outlet in the cabinet, this job will be done. I've been pestering him for two weeks now, but he's still a no-show. In the meantime, we're making do with an extension cord running across the floor. Not exactly the safest situation.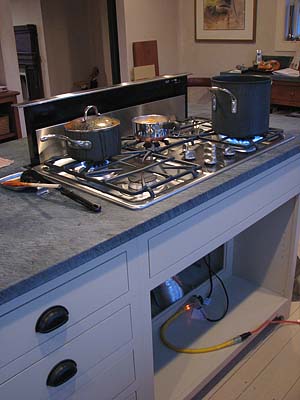 Once that cord is gone I can put the access panel back in the cabinet and re-install the shelf. This will be where Gay will store her most-frequently used pots and pans for easy access.

In the photo above you can see how the soapstone looks when the mineral oil has all soaked in*. I think we prefer this look to the darker oiled look. It shows off more of the texture of the stone. But it's nice to have the option. We read about one lady who says she only oils here soapstone countertops before having a party.

Either way, it's wonderful to be able to take a hot pot off of the burner and set it right down on the countertop without having to hunt around for a hot pad.

I've also been trying to get the plumber to come run the drains for the two sinks in the kitchen...the soapstone farm sink and a small bar sink. I had already installed the faucets, so the drains were all that was left. After I never heard back from him I finally went ahead and did it myself today. It's not that I thought I couldn't do it, I just knew it was going to be a pain. If you don't run drains every day it's always a puzzle to figure out exactly what pieces you're going to need and to make sure that they all mate together properly. Where it would have taken the plumber no more than ten minutes to run both sinks, it took me three trips to the hardware store to get exactly what I needed. One trip was because the drain that I bought didn't have a long enough threaded nipple to pass all the way through the thickness of the soapstone sink. So I had to travel farther to a plumbing specialty store to find a drain that would work. Anyway, as of 3:33 this afternoon both sinks were fully operational.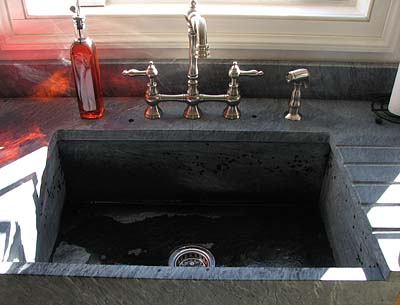 Actual working sinks in the kitchen! How much happiness can one family stand?

William came home from school and Gay showed him that the sink was working. The first thing he did was bend over and open the cabinet doors below and ask, "And there's no water spraying out down here?" I have earned such confidence from my son. -- Bill

*Correction: The folks at Bucks County have reminded me that since soapstone is nonporous, the mineral oil does not actually "soak in." Instead, it forms a thin layer on top of the stone.

---
William came home from school today to find saw horses set up in the dining room where Gay had been priming baseboard that I ran earlier today. "Oh no," he said, "We're regressing."

Actually, we're progressing...a little. Our projects have been few and far between lately as we've been busy with other things. And, frankly, I've been hating the idea of stirring up sawdust now that our furniture is all here. But it's gotta be done.

We still have lots of detail work left to do.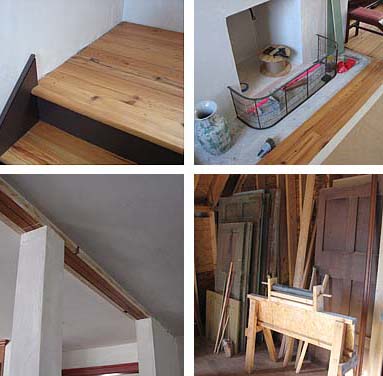 Like lots of missing baseboard and shoe moulding, an unfinished hearth in the master bedroom, a beam to box in in the kitchen (and posts that need some detail work), and a workshop full of old doors that need to start finding their way throughout the addition. We still just have sheets hanging over the bathroom doors. Fine for us, but not so cool for guests.

Oh, and there's that 17-foot-long wall in the family room where I want to build in bookcases. And both staircases need newel caps and wainscotting below them.

Next thing I know it will be spring and we'll be focused on outdoor projects, so I really need to get these inside projects done. Or at least get them going. So today I started by running some baseboard. Tomorrow I'm going to work on that eyesore beam.

Getting back to work meant cleaning up the workshop. It's been sitting dormant under a thick layer of sawdust ever since we finished making those 10,000 balusters. I cleaned and cleaned and cleaned and finally have it looking good and reorganized.

Last weekend I broke down and bought this badly needed tool cabinet at Sears.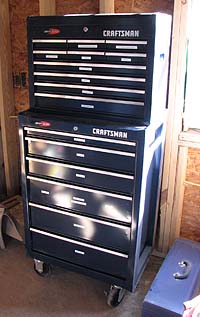 It was great fun rounding up tools from the shop, the garage, the dining room closet, the smokehouse, and getting them all organized in one place. For about a month we haven't been able to find a single Phillips head screwdriver around here. Now I can open one drawer and find about 8 of them! I didn't spring for the ball-bearing drawers, which would have added about $150 to the cost. This unit has their new "Super-Glide" drawers and they seem to work just fine when loaded down. Nice and smooth.
-- Bill

---
Yesterday I finally installed the baseboard in the upstairs hall. It's amazing what a difference it makes after looking at it unfinished for so long.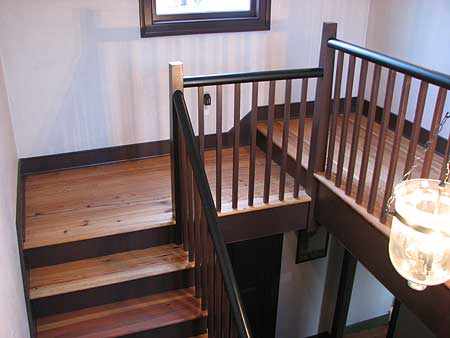 I also got the box beam made and into place.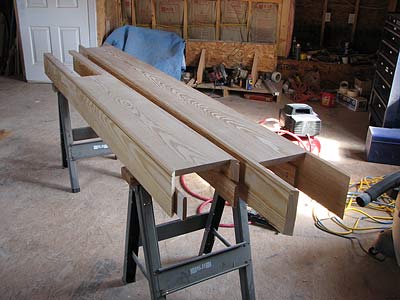 I made the box in the shop in three pieces. I ran a bead on the bottom edge of the side pieces.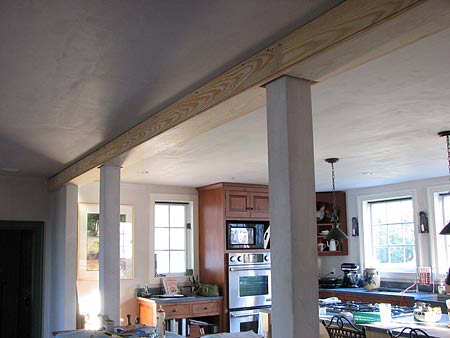 Gay and I wrestled them into place today and everything fit perfectly. I'll add crown moulding along the ceiling and small crown at the tops of the posts. It's nice not to be looking at the laminated beam anymore.

'Tis the season for our feathered friends to start looking for their new homes. A popular spot this year appears to be the hoods in our new lanterns. Nobody's started moving in yet, but there's been some serious "tire kicking" going on.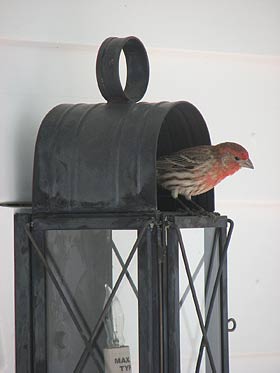 My bird book says he's a House Finch. It also says that they are "...uncommon but increasing and spreading in East." I got this book 33 years ago...so it would appear that they have successfully spread around here.

In closing, here's an easy brain teaser for you.

The longest dimension of my workshop is 22 feet. I needed to run some 12-foot boards through the moulder. 12 feet in, 12 feet out...24 feet. In the past I've gone through the hassle of raising the moulder stand up on blocks so that it's high enough for the wood to pass out a window. (I keep my table saw raised and lined up with the windows so I can do the same thing.) Yesterday, I finally noticed that the moulder has a feature that the table saw doesn't that allowed me to run the 12-foot stock without opening any windows or doors. What's that feature. If you know the answer, post it to the Forum.
(And please also tell me why it took me so long to figure this out myself!) -- Bill

---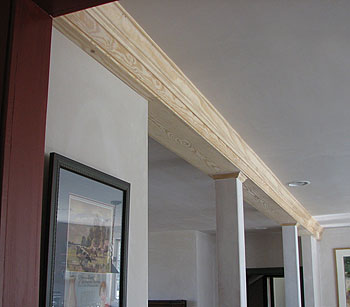 I added the crown moulding to the box beam today and we're really pleased with the way it turned out. The scale seems perfect.

Now if we can just figure out what color to paint it...
-- Bill

---
Well, white ain't it.

I primed the box beam today which gave us a preview of what it would look like if we painted it white.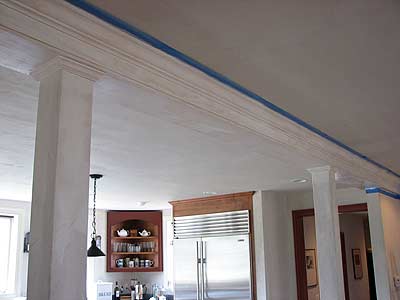 There are a couple things we don't like about it being white. For one, it just looks way too formal and fancy. And it will look even more so with some gloss.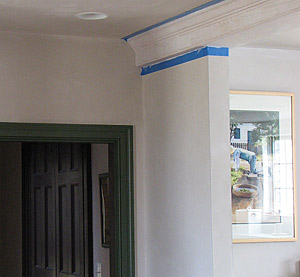 And I really don't like seeing the white above the green trim.

So tomorrow we slather on the green and see what's not to like. -- Bill

---
The paint color saga continues.

Green definitely wasn't the answer. In fact, it was so bad that I couldn't even bring myself to take a photo of it. But what we realized with the green is that we should have treated the family room and kitchen as one room when picking colors. Instead, we treated them as two distinct spaces and we're now paying the price where the rooms come together in the center. In fact, I still haven't installed baseboard in the kithen because we simply couldn't figure out what color it should be. And the reason we couldn't decide was that there is a color train wreck going on where the the kitchen, family room, and colonnade converge. The green brought that all home. When viewed from the colonnade, without the family room in your line of site, the green beam made us say, "Ew, what the heck is that color doing in here?" So in order to solve this problem, some part of the equation needs to change.

We're locked into the colors in the kithen. We're not repainting the floor or cabinets or changing the countertop...so all of those things are our givens. On the other hand, the only color in the family room is the green trim. We're not crazy about repainting it all, but it needs to change. But to what? The only answer that made sense to us was to bring the gray from the floor into the family room, replacing the green.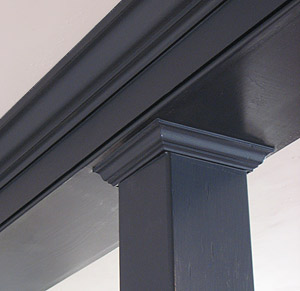 Oh yeah, as you can see from this photo, we also decided that we didn't like leaving the posts white, so we painted them the same color as the beam.

The view from the colonnade...


And the view from the family room...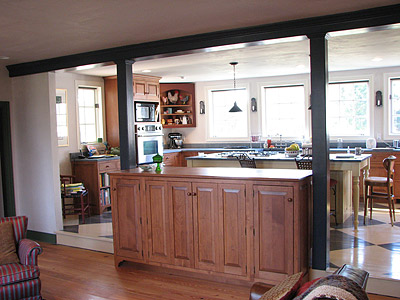 Idunno. I kinda like it. I kinda don't. Looking at the photos, I'm thinking that maybe the posts should have been left white.

Gay likes it. William hated it when he got home from school yesterday, but then it grew on him. Me...I liked it at first, but now I feel like it's still not quite getting it, although I really like the color.

I confered by phone with our good friend Karen yesterday who is a very talented interior designer. We're hoping that she can come for a visit sometime next week and help us get unstuck here. Meanwhile, I might paint one of the posts white and see what that does.

On the positive side, a couple weeks ago we ordererd new Windsor counter stools for the kitchen and can't wait for them to get here. We found them from a Canadian company called Camlen Antiques.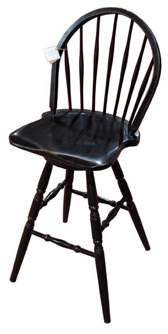 Right now the Canadian to US dollar exchange rate is pretty good, so they wound up being cheaper than others we found, even after international shipping. -- Bill

---
I was pulling together some before and after photos for a magazine that's doing a story on families that have reclaimed their ancestral homes. I thought this comparison was pretty cool. 1999 and today.

Roll your mouse over the image to see the current view.