---
When you see this symbol, click to read related discussion in the Forum.
---
We had a busload of visitors earlier this week. Literally.
The Virginia Historical Society periodically organizes tours of different areas of the state. Last week was a two-day visit to the Northern Neck with stops at several old homes, including Enon Hall.
When they first asked us to open our house to the tour, we were a little intimidated. The other houses on the tour are quite grand in comparison to Enon Hall, so I was challenged to determine what exactly our unique "angle" would be. We decided to focus on the evolution of the house over the centuries as one family expanded it over and over again to meet their changing needs. Enon Hall actually presents an interesting chronology of 18th and 19th century American architecture as you walk from one end of the house to the other. First you pass through the very simple Colonial period in the Dutch Colonial, then the mid 19th century Greek Revival period in the dining room and, finally, the late 19th century Victorian period in the old law office.
The group was large, so Gay and I split them up for touring purposes.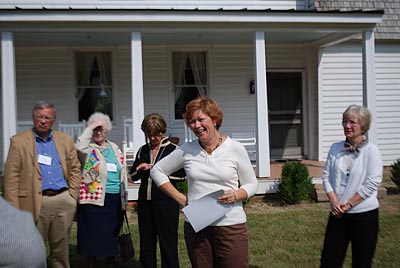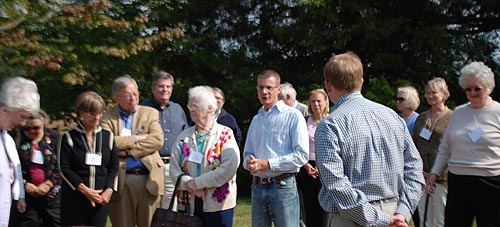 It was fun for us to show everybody around and I hope that they found it to be a worthwhile stop on their tour of the beautiful Northern Neck. Thanks to Cathy Boe for sharing her photos! -- Bill
---
You know, we still have a lot of interior doors to hang in the addition. If you remember, we have a large collection of 18th and 19th century doors that I found in the chicken house. Every door opening in the addition is sized to fit one of these doors. The problem is that the doors all require varying amounts of work before they can be hung, so I've been dragging my feet. Until now, I've only hung William's bedroom door and our bathroom door. Now, two more are hung.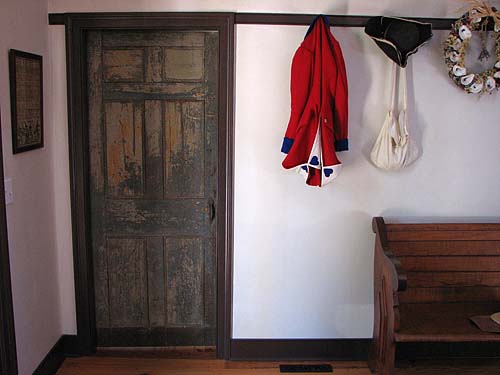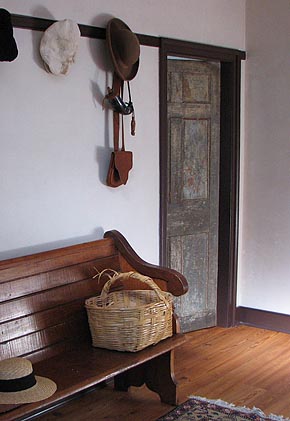 These doors go from the new center hall into the family room. We've decided not too paint these old doors. We think the patina of multiple coats of very old paint is just too interesting to lose. (We realize that not everybody would agree with us on this.) So I've just gently scraped off all loose paint chips and then scrubbed the doors down with TSP.
Both doors have their original HL hinges. The hinges on one door were badly bent, so I had to heat them with a propane torch and bend them back out straight.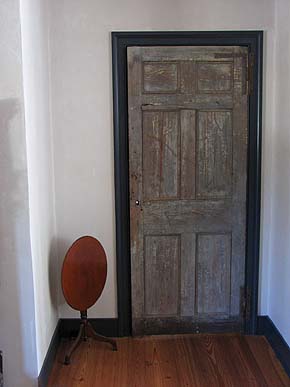 Both of these doors have a pull handle on one side, but are missing the latch on the other. I'll have to run down old parts so that they will actually close and latch. -- Bill