ONLINE JOURNAL These journal entries track our progress as we undertake our adventure of restoring this very old home. The main reason for keeping this journal on the web is that we have found that there are very few resources (books or websites) that follow all of the trials and tribulations of restoring an old home...from start to finish.
---
January 2, 2005
This morning, we put up our "For Sale By Owner" sign at our home in Bon Air.

This afternoon, we took down our "For Sale By Owner" sign at our home in Bon Air.

It was amazing. We got a great, clean offer from the first family who looked at our house! No contingency other than an inspection. That's pretty much the way we bought this house 8 years ago. We were the first family to look at it and we immediately wrote a contract for the full asking price. It's a wonderful house and we'll miss it, but this new family is really nice and we're sure they'll be very happy here!

So it looks like we're off to a blazing start in 2005!

The plan is that I'll be at Enon Hall pretty much full time starting in February or March, getting construction going. It looks like our closing in Bon Air will be April 15th. After that, Gay and William will stay with Gay's mom in Bon Air until school is out, and then join me at Enon Hall in the midst of the construction. Should be exciting!

Happy new year! -- Bill


---
January 16, 2005
On Friday we had our home inspection and passed with flying colors. So everything is all set for us to close on March 31st! (The buyers requested that the date be moved sooner.)

Thus far, my experience attempting to find a builder for the Enon Hall addition has been a bit frustrating. Perhaps I should have blanketed a dozen builders with the plans all at once to improve my odds of getting timely responses. Instead, I have been doing a lot of homework and contacting only a couple of carefully selected builders at a time. But then it takes 2-3 weeks to actually arrange a meeting and then another 6 to 8 weeks to get an estimate from them. To date, I have actually only received one written estimate and it was for way more than we can afford to spend.

Plan B is to serve as my own contractor on the project. I will have the time and the skills for managing the many details and schedules, but I am concerned about whether I will be able to secure good subs...particularly a framing crew. There are limited resources in the Northern Neck, and most of them are already committed to the established builders/contractors there.

Meanwhile, Gay and I have been working with Crown Point Cabinetry on the new kitchen.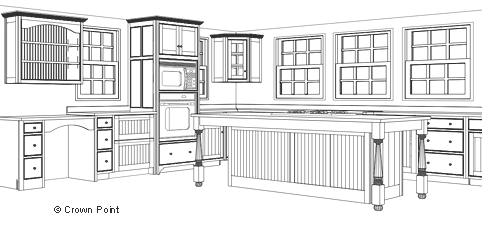 This was a first draft drawing. Based on this, Gay and I have given the Crown Point designer our feedback and he's now working on a revision. So far, they've been a pleasure to work with and we love their product.

We have also contracted with Bayshore Design to have the site work done, including locating all of the property stakes, staking out the addition, determining our RPA waterline per the Chesapeake Bay Act, establishing the 50-foot setback from the waterline, working with the county on any needed variances, developing the run-off plan required by the Chesapeake Bay Act, locating and evaluating the current septic drainfield, etc. This work should begin the first week of February.

So things are moving forward, only without a builder in place. Not only will this year be a year of adventure for us...it will certainly be a year of faith. -- Bill


---
January 22, 2005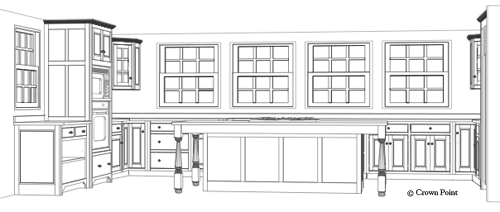 This week we received revised drawings and pricing from Jeff Schneider at Crown Point. (Hope you're getting the snow up there that you wanted, Jeff!) I think we've chosen our door and drawer style and are zeroing in on the finishes. The perimeter cabinets will be stained and the island will have a milk paint finish. The rendering below shows the back side of the island.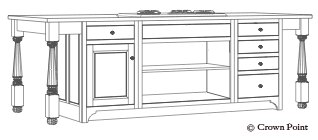 The island will have a gas cooktop. Below the cook top will be open shelves for the easy access of pots. We may make the shelves stainless steel so that it's easy to slide pots around and easy to clean.

The windows across the back of the kitchen will look out to the creek. We're sacrificing upper cabinets so that we can maximize the windows. Between each pair of windows will be a light fixture.

We have taken a lot of inspiration from this kitchen featured in Southern Living Magazine a few months ago.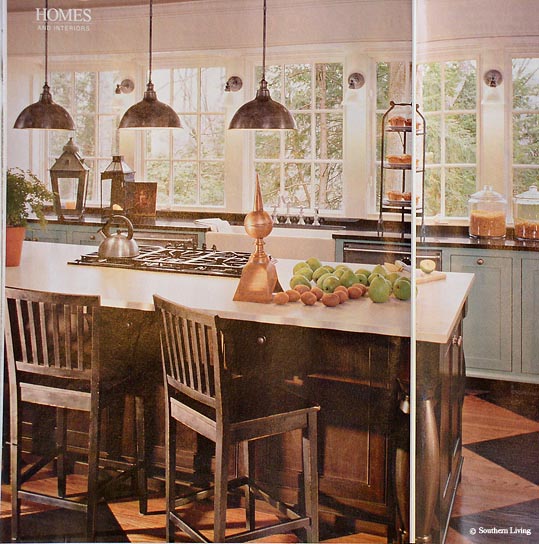 Today we went to the Home Show at the Richmond Convention Center, expecting to be like kids in a candy store. But we were sadly dissapointed. We were in and out in about 30 minutes. I had a mental list of products I was ready to research (countertops, specifically soapstone, slate, and stainless steel; in-line, on-demand hot water heaters like Leah and Ryan just installed over at www.raisetheranch.com; and quality windows). For the most part, the show was pretty tacky. I did pick up a directory of contractors from the Central Virginia chapter of NARI, while Gay and William were being huckstered by the traveling "Super Chamois" salesman with the wireless mike. ("But wait, there's more...!")

We have received an actual construction bid that appears to be in the realm of reality. We asked this builder to just bid masonry and framing to get the addition under roof and then we would act as the contractor from there. I need to have a follow-up conversation with him to discuss the details of his bid, timetable, etc.

Meanwhile, on Monday William will be visiting a Boy Scout troop near Enon Hall that he may join and will be spending Tuesday at the school he will probably be attending so that he can meet the kids that would be in his grade.

In Richmond, I am working on a rather large client project that will have me pretty busy through mid-February. After that, I'm looking forward to devoting the lion's share of my time to Enon Hall! -- Bill


---
January 26, 2005
Icy roads and cancellations prohibited William's troop and school visits. Instead, I spent all day yesterday researching and pricing windows for the addition. I've been dreading this task because I knew I wouldn't be happy with the choices out there. The thought of giving up our old windows and old glass just makes me moan, even though I hate maintaining them.

Not sure where else to start, I wound up at the Pella store in Richmond. My first question, "Do y'all make true divided lite windows?" Of course, the answer was "no" and they proceeded to show me their best SDL (simulated divided lite) window. For a new house...not bad. But for Enon Hall, not so great. The guy at the Pella store was very nice and helpful and took a real interest in the project. Turns out he does a lot of work around Enon Hall. So I went ahead and let him do the take-off so I could get an idea of pricing. Of course, he also wanted to steer me to clad windows, but I stubbornly held my ground for wood. Two hours later he was done and promised me a price by the end of the week. I learned a lot in the process, but still wasn't happy with the product. And there were things about Pella that really turned me off. Like the fact that a brass window lock (an ugly, horsey-looking brass lock, in my opinion) is a $50 upcharge...per window!! That's freakin' nuts!

After Pella, I headed to my favorite lumber/millwork place in the whole world, Siewers. I felt much better after talking to Richie there. They have sources for true divided lite and also SDL using single pane glass that you can't distinquish from true divided lite. Also, he introduced me to the new Auralast Wood windows from Jeld-Wen. These windows are warranted for 20 years against rot and insect damage. And the Auralast isn't even an upcharge! Sounded great to me. He quickly did the take-off and called me and hour later with pricing, which turned out to be about $5,000 less than the number that I had budgeted for windows!

But I still have one more option that I want to check out. That is having true divided light windows made to exactly match the old existing windows so that I can recycle some of our old glass into these windows. I have put a call into a source that I think could do this and am waiting to hear back.

Meanwhile, I've also finalized pricing with Crown Point and gotten a good price from Vermont Soapstone for the kitchen countertops and a soapstone sink. That was awesome, Jeff at Crown-Point e-mailed his drawings to Vermont Soapstone for me, and I had an estimate from them within the hour. Plus, they offer a 15% discount to Crown Point customers! -- Bill


---
January 30, 2005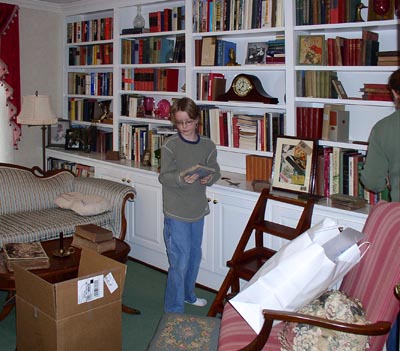 The first couple of boxes were packed today as Gay and William started on the library. It was sad to me that they started in my favorite room in the house, but you gotta start somewhere! We had the wall of bookcases built in when we first bought this house. We're hoping to have a few dollars left to do the same thing in the new family room at Enon Hall. But the budget is really getting stretched thin!

I think I have nailed down the supplier for our custom garage doors, a group called Designer Doors. They were very responsive in checking out our drawings and getting me prices quickly. I've also priced a couple of their stock doors as a money-saving option.

I don't want to make a blanket statement, but in the process of locating suppliers for each aspect of this project I have found that out-of-market companies that I find on the Web are MUCH more responsive than the companies right here in our own backyard...which is really sad. I'd much rather spend my dollars locally if the product is comparable...but some of these local guys are making me work way too hard! With the exception of Siewers, it's a major ordeal to just get the local guys to return my call. We have a large stone company based here that sells soapstone for countertops. I tried first by phone and got fed into voicemail where I left a detailed message. Two days later when I had still not heard anything back I submitted my inquiry again through their Web site. Four days later, I still haven't heard from them. Oh well...you snooze, you lose. I'm certainly not gonna try again.

Meanwhile, I'm still working on window scenarios. I have two prices in, but neither is the perfect solution, so I'm continuing that search this week. It's critical that I get this nailed down soon so that I can make sure we have the windows on site when framing begins. Not that I know when framing will begin. Again, local guys...

Had breakfast with our architect this week and brought him up to speed on where everything is. He had lots of good direction and advice and may have a bead on a framing crew.

I think we are going to go with Pex tubing for the water supply lines. I've seen it installed at "The Minton Project" (What happened to his Web site?) and it looked very easy to work with. Everything's color coded and turning a corner is as easy as bending the tube.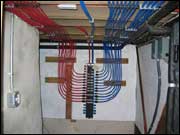 Plus, I love the way that all of the lines feed back to a single control panel (much like a circuit breaker) where you can turn off any fixture in the house individually. Sweet! -- Bill