ONLINE JOURNAL These journal entries track our progress as we undertake our adventure of restoring this very old home. The main reason for keeping this journal on the web is that we have found that there are very few resources (books or websites) that follow all of the trials and tribulations of restoring an old home...from start to finish.
---
December 17, 2000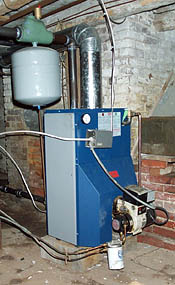 Now there's a sexy shot! Our new boiler is in and humming along.

In addition to checking out the new boiler and prepping water pipes for the winter, we also scraped more texture paint off of one of the upstairs bedroom ceilings today. We should be ready to paint this room later this winter.

Have spent the last month trying to reach the restoration contractor (Fred Ecker of Tidewater Preservation) who met me at the house in September and seemed so interested in working with us. I have left numerous phone calls with his office and faxed him a measured floorplan as he requested. But haven't heard a peep back, so I guess I'm moving on and looking for somebody more interested.

A friend of mine has started a website following his work on his Richmond Fan Victorian. Part of his site (www.bangyourthumb.com -- a great name!) is a page of reviews of the contractors he has worked with. Maybe I need to add a similar "thumbs up/thumbs down" page to this site.

On that note, our new boiler was installed by TCH Oil of Irvington and Terry did a great job.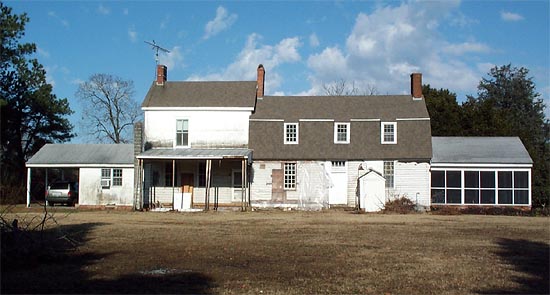 We've made so little progress in the past few months that I wanted to do something to ease a little of our frustration. Above is a picture I took of the back of the house this afternoon...very scary. Roll your mouse over the photo and see my rendering of where we think we are headed with the restoration. This rendering shows cedar shakes on the gambrel and a standing seam metal roof, painted black, on the other roofs. In addition the porch is rebuilt and the dog house cellar entrance is replaced with trapdoors. Wow! I feel like I accomplished so much today! -- Bill

---
December 31, 2000
Met another restoration contractor at Enon Hall today. He was concerned about the large amount of old insect (powder post and termite) damage in the cellar and kitchen outbuilding and felt that we needed the input of a structural engineer before we would be able to determine a plan of action. -- Bill

---